Get Involved
Become a School Governor
School Governors are key to driving excellent governance and raising performance and achievement in schools.
Children, schools and employers in Swindon have teamed up to front a national campaign for school governor recruitment service Inspiring Governance to highlight the urgent need for more people to volunteer in schools across England.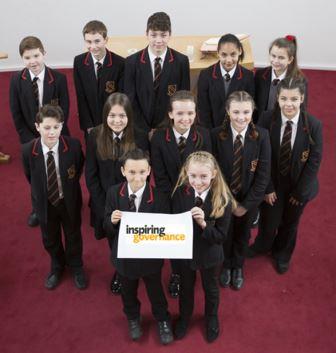 Leading the campaign are two short films produced by Create Studios in Swindon, which highlight the benefits to both individuals and employers of supporting schools through governance. Filmed at St Joseph's Catholic College on Ocotal Way, Holy Cross Catholic Primary School on Queen's Drive and various locations in Swindon, young people explain the role of school governors, the rewards to be gained for both volunteers and employers, and the opportunity for people from all backgrounds to get involved.
Despite a quarter of a million people across England already volunteering as school governors, it is estimated that one in ten school governor positions are vacant. In Swindon, there are over 140 vacancies in maintained schools alone, and there is a particular challenge to recruit governors in rural areas, deprived areas and schools that 'require improvement' according to Ofsted. Supported by Swindon Borough Council and Swindon Business in the Community, Inspiring Governance's campaign asks local people and employers to 'Join the 250k' to make a real difference to the life chances of young people in the local community.
Becoming a school governor gives volunteers the opportunity to use and develop personal and professional skills, gain board-level experience and give something back to the local community. Encouraging and supporting their staff to govern gives employers the opportunity to shape their future workforce, access free professional development and contribute to the education system.
Anyone over the age of 18 can become a school governor: no specific knowledge or experience is required and there is no requirement to be a parent. Inspiring Governance uses an online mapping feature to connect volunteers with schools seeking governors, and all volunteers appointed though the service receive free training and support from the National Governance Association to help them be confident and effective in their role.
Please review the following press release for more information about the campaign:
Swindon video press release for Swindon a Learning Town
Employers interested in supporting their employees to volunteer can visit https://www.inspiringgovernance.org/employers to view the film, access resources and get involved.
Please contact Eileen Brocklehurst at eileen.brocklehurst@educationandemployers.org to discuss this opportunity.